Dr. V.K.Maheshwari, M.A. (Socio, Phil) B.Sc. M. Ed, Ph.D.
Former Principal, K.L.D.A.V.(P.G) College, Roorkee, India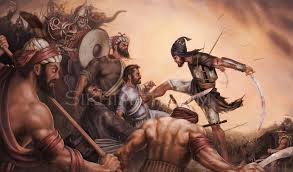 My principal object in coming to Hindustan has been to accomplish two things. The first was to war with the infidels, the enemies of the Mohammadan religion; and by this religious warfare to acquire some claim to reward in the life to come. The other was that the army of Islam might gain something by plundering the wealth and valuables of the infidels: plunder in war is as lawful as their mothers milk to Musalmans who war for their faith.
Amir Timur or Tamerlane
The Mohammedan Conquest of India is probably the bloodiest story in history. It is a discouraging tale, for its evident moral is that civilization is a precarious thing, whose delicate complex of order and liberty, culture and peace may at any time be overthrown by barbarians invading from without or multiplying within. The Hindus had allowed their strength to be wasted in internal division and war; they had adopted religions like Buddhism and Jainism, which unnerved them for the tasks of life; they had failed to organize their forces for the protection of their frontiers and their capitals, their wealth and their freedom, from the hordes of Scythians, Huns, Afghans and Turks hovering about India's boundaries and waiting for national weakness to let them in. For four hundred years (600-1000 A.D.) India invited conquest; and at last it came.
Islam spread as a conquering creed both in west and east with amazing rapidity. The Byzantine provinces of Palestine and Syria were conquered by the newly converted Arabs after a campaign of six months in C.E. 636-37. Next  the Sassanid empire of Persia which included Iraq, Iran and Khurasan. By 643 the boundaries of the Caliphate touched the frontiers of India. Egypt had fallen in 640-641. and territories of Inner Mongolia, Bukhara, Tashkand and Samarqand were annexed by 650 and Spain in C.E. 709. Thus within a span of about seventy years (637-709) the Arabs achieved astounding success in their conquests. The people of these conquered lands were quickly converted to Islam and their language and culture Arabicised.
Naturally India, known to early Arabs as Hind / Sind, too could not escape Muslim expansionist designs, and they sent their armies into India both by land and sea. But progress of Muslim arms and religion in India was slow, very slow. For, the declarations of objectives of Muslim invaders had not taken into account the potentialities of Indians stiff and latent resistance. Caliph Umar (634-44 C.E.) had sent an expedition in 636-37 to pillage Thana on the coast of Maharashtra during the reign of the great Hindu monarch Pulakesin II. This was followed by expeditions to Bharuch (Broach) in Gujarat and the gulf of Debal in Sind. These were repulsed and Mughairah, the leader of the latter expedition, was defeated and killed. The next Caliph Usman (644-656)  and refrained from embarking on any venture on Sind. The fourth Caliph, Ali, sent an expedition by land in 660 but the leader of the expedition and most of his troops were slain in the hilly terrain of Kikanan (42 H./662 C.E.). Thus the four pious Caliphs of Islam died without hearing of the conquest of Sind and Hind.
India was never ruled as a whole by any single empire rather was ruled by multiple kingdoms though they were sovereign. This sovereignty was lost with the attack of Muslim invaders. The very first Muslim attack on India had taken place in Sindh in 715 C.E. The Arabs overran the entire kingdom of Raja Dahir and the neighbouring kingdom of Mulasthana (Multan). They even unsuccessfully tried to attack Malwa (Malibah in Arab records).
After this limited invasion of Sindh, all further Muslim attacks were thwarted by Kings like Raja Bhoj and other Gurjara Kings for 300 years. The second surge of the Muslim aggression led by Mahmud of Ghazni began in 980 C.E. and lasted till 1020 C.E during the rule of Shahi Kings of Punjab. By the year 1020 C.E. Muslim rule had been established in Afghanistan, Paktoonistan (NWFP) and West Punjab. The Rajputs ruling North India resisted further Muslim aggression.
Why did Ghenghis Khan avoid India? India, a rich civilization, with massive exports and large gold reserves, was an attractive target. Genghis Khan, whose empire, from Mongolia to Austria, from Central Asia to Russian borders, was larger than Alexander's – and whose conquests brought Chinese culture to Europe (like abacus, gunpowder, paper, printing) by-passed India completely. Why?
For the same reasons, that Islamic conquerors, by that time, had conquered most of Eastern Europe, had failed in India. By 1000 A.D., Al Beruni's description of India and its wealth, spread over the Islamic world. For the next 500 years, Islamic territories continued to expand. India was the last significant conquest of the Islam. Islamic raiders targeted India for plunder and loot – but were not able to establish themselves till the 13th century. The first significant Islamic dynasty in India was the Slave dynasty – only in the 13th century, Qutubuddin Aibak in 1206. From the 1206 to 1526, Islamic rulers struggled to consolidate in India.
But the Indian Pagans were far too numerous and never fully surrendered. What some call the Muslim period in Indian history, was in reality a continuous war of occupiers against resisters, in which the Muslim rulers were finally defeated in the 18th century.
The Muslims could not subjugate India with ease. And even after subjugating different parts of the country, they were never able to rule it entirely. The next 400 years from 1328 up to 1720 was marked by a valiant and ceaseless struggle for independence by Hindus.
This struggle was first led in North India by the Rajputs and then by the Jats, Marathas and Sikhs. In the South this struggle was embodied in the Vijayanagar Empire. This struggle for independence culminated when the Marathas began to bring an end to the Muslim domination of India. The Gurkhas came in later in the 18th century against the British, but their activities also played a role in weakening the Muslim power in North India which was on its last legs in the 18th century.
The Muslims aimed to totally destroy the Superstructure associated with the Hindu period and replace with a typical Muslim one. Towards this end the Muslim invaders undertook the desecration of places of worship, destruction of universities like Nalanda, the wholesale slaughter of the monks and priests to wipe out the intellectual bedrock of the people they overran. Such tyrannical polices for 700 years of Muslim rule left a trail of bitterness in the regions which passed under their domination. Hindu tradition survived only in remote corners of the country like in Orissa, Assam and parts of South India as Muslim rulers unleashed a reign of terror the kind of which India had never experienced before in its history.
In K.S. Lal's 1973 book, Growth of Muslim Population of Medieval India (1000-1800), the author estimated that about 60-80 million people died in India between 1000 and 1525 as a result of Islamic invasions. The Muslim conquests, down to the 16th century, were for the Hindus a pure struggle of life and death. Entire cities were burnt down and the populations massacred, with hundreds of thousands killed in every campaign, and similar numbers deported as slaves. Every new invader made (often literally) his hills of Hindus skulls. Thus, the conquest of Afghanistan in the year 1000 was followed by the annihilation of the Hindu population; the region is still called the Hindu Kush, (Persian: "Hindu Slaughter"). It is significant that one of the very few place-names on earth that reminds us not of the victory of the winners but rather of the slaughter of the losers, concerns a genocide of Hindus by the Muslims.
The first Moslem attack was a passing raid upon Multan, in the western Punjab (664 A.D.) Similar raids occurred at the convenience of the invaders during the next three centuries, with the result that the Moslems established themselves in the Indus valley about the same time that their Arab co-religionists in the West were fighting the battle of Tours (732 A.D.) for the mastery of Europe. But the real Moslem conquest of India did not come till the turn of the first millennium after Christ.
The day Muhammad bin Qasim, entered Sindh as a conqueror, must rank as the most ominous, odious and outrageous moment in the history of India, whose proud, pious and powerful traditions have been the torch-bearer of world civilisation. The Indians, used to enjoying the warmth of ahimsa, were stunned by the violence that the Arab raiders displayed in robbing the rich and seducing the indigenous damsels. Yet the irony was that they did all this in the name of the Most Compassionate and Just Allah, who counts these felonies as acts of fairness when they are committed to torture the unbelievers."
In the year 997 a Turkish chieftain by the name of Mahmud became sultan of the little state of Ghazni, in eastern Afghanistan. Mahmud knew that his throne was young and poor, and saw that India, across the border, was old and rich; the conclusion was obvious. Pretending a holy zeal for destroying Hindu idolatry, he swept across the frontier with a force inspired by a pious aspiration for booty. He met the unprepared Hindus at Bhimnagar, slaughtered them, pillaged their cities, destroyed their temples, and carried away the accumulated treasures of centuries. Returning to Ghazni he astonished the ambassadors of foreign powers by displaying "jewels and unbored pearls and rubies shining like sparks, or like wine congealed with ice, and emeralds like fresh sprigs of myrtle, and diamonds in size and weight like pomegranates."  Each winter Mahmud descended into India, filled his treasure chest with spoils, and amused his men with full freedom to pillage and kill; each spring he returned to his capital richer than before. At Mathura (on the Jumna) he took from the temple its statues of gold encrusted with precious stones, and emptied its coffers of a vast quantity of gold, silver and jewellery; he expressed his admiration for the architecture of the great shrine, judged that its duplication would cost one hundred million dinars and the labour of two hundred years, and then ordered it to be soaked with naphtha and burnt to the ground.
Six years later In 1024 he defeated the Habbari Dynasty in the Sind and he annexed that area. In 1025 he invaded Somnath and looted its temple on the coast of Saurashtra, killed all its fifty thousand inhabitants, and dragged its wealth to Ghazni. ). With his new wealth, Mahmud erected buildings and magnificent mosques in Ghazni. He turned Ghazni into a world center of Islamic culture, and he financed more military campaigns.
In the end he became, perhaps, the richest king that history has ever known. Sometimes he spared the population of the ravaged cities, and took them home to be sold as slaves; but so great was the number of such captives that after some years no one could be found to offer more than a few shillings for a slave. Before every important engagement Mahmud knelt in prayer, and asked the blessing of God upon his arms. He reigned for a third of a century; and when he died, full of years and honours, Moslem historians ranked him as the greatest monarch of his time, and one of the greatest sovereigns of any age.
Seeing the canonization that success had brought to this magnificent thief, other Moslem rulers profited by his example, though none succeeded in bettering his instruction. In 1186 the Ghuri, a Turkish tribe of Afghanistan, invaded India, captured the city of Delhi, destroyed its temples,  confiscated its wealth, and settled down in its palaces to establish the Sultanate of Delhi an alien despotism fastened upon northern India for three centuries, and checked only by assassination and revolt. The first of these bloody sultans, Kutb-d Din Aibak, was a normal specimen of his kind fanatical, ferocious and merciless. His gifts, as the Mohammedan historian tells us, "were bestowed by hundreds of thousands, and his slaughters likewise were by hundreds of thousands." In one victory of this warrior (who had been purchased as a slave), "fifty thousand men came under the collar of slavery, and the plain became black as pitch with Hindus."  Another sultan,Balban, punished rebels and brigands by casting them under the feet of elephants, or removing their skins, stuffing these with straw, and hanging them from the gates of Delhi. When some Mongol inhabitants who had settled in Delhi, and had been converted to Islam, attempted a rising, Sultan Alau-d-din (the conqucrer of Chitor) had all the males from fifteen to thirty thousand of them slaughtered in one day. Sultan Muhammad bin Tughlak acquired the throne by murdering his father, became a great scholar and an elegant writer, dabbled in mathematics, physics and Greek philosophy, surpassed his predecessors in bloodshed and brutality, fed the flesh of a rebel nephew to the rebel's wife and children, ruined the country with reckless inflation, and laid it waste with pillage and murder till the inhabitants fled to the jungle. He killed so many Hindus that, in the words of a Moslem historian, "there was constantly in front of his royal pavilion and his Civil Court a mound of dead bodies and a heap of corpses, while the sweepers and executioners were wearied out by their work of dragging" the victims "and putting them to death in crowds."  In order to found a new capital at Daulatabad he drove every inhabitant from Delhi and left it a desert; and hearing that a blind man had stayed behind in Delhi, he ordered him to be dragged from the old to the new capital, so that only a leg remained of the wretch when his last journey was finished.  The Sultan complained that the people did not love him, or recognize his undeviating justice. He ruled India for a quarter of a century, and died in bed. His successor, Firoz Shah, invaded Bengal, offered a reward for every Hindu head, paid for 180,000 of them, raided Hindu villages for slaves, and died at the ripe age of eighty. Sultan Ahmad Shah feasted for three days whenever the number of defenceless Hindus slain in his territories in one day reached twenty thousand.
These rulers were often men of ability, and their followers were gifted with fierce courage and industry; only so can we understand how they could have maintained their rule among a hostile people so overwhelmingly outnumbering them. All of them were armed with a religion militaristic in operation, but far superior in its stoical monotheism to any of the popular cults of India; they concealed its attractiveness by making the public exercise of the Hindu religions illegal, and thereby driving them more deeply into the Hindu soul. Some of these thirsty despots had culture as well as ability; they patronized the arts, and engaged artists and artisans usually of Hindu origin to build for them magnificent mosques and tombs; some of them were scholars, and delighted in converse with historians, poets and scientists. One of the greatest scholars of Asia, Alberuni, accompanied Mahmud of Ghazni to India, and wrote a scientific survey of India comparable to Pliny's Natural History and Humboldt's Cosmos. The Moslem historians were almost as numerous as the generals, and yielded nothing to them in the enjoyment of bloodshed and war. The Sultans drew from the people every rupee of tribute that could be exacted by the ancient art of taxation, as well as by straight- forward robbery; but they stayed in India, spent their spoils in India, and thereby turned them back into India's economic life. Nevertheless, their terrorism and exploitation advanced that weakening of Hindu physique and morale which had been begun by an exhausting climate, an inadequate diet, political disunity, and pessimistic religions.
The usual policy of the Sultans was clearly sketched by Alau-d-din, who required his advisers to draw up "rules and regulations for grinding down the Hindus, and for depriving them of that wealth and property which fosters disaffection and rebellion."  Half of the gross produce of the soil was collected by the government; native rulers had taken one- sixth. "No Hindu," says a Moslem historian, "could hold up his head, and in their houses no sign of gold or silver … or of any superfluity was to be seen. . . . Blows, confinement in the stocks, imprisonment and chains, were all employed to enforce payment." When one of his own advisers protested against this policy, Alau-d-din answered: "Oh, Doctor, thou art a learned man, but thou hast no experience; I am an unlettered man, but I have a great deal. Be assured, then, that the Hindus will never become submissive and obedient till they are reduced to poverty. I have therefore given orders that just sufficient shall be left to them from year to year of corn, milk and curds, but that they shall not be allowed to accumulate hoards and property."
Islamic imperialism knew no code of honour. The only rule of war they observed without fail was to fall down the helpless civil population after a decisive victory had been won on the battlefield. They sacked and burnt down villages and towns after the defenders had died fighting or had fled. The cows, the Brahmins and Buddhist Bhikshus invited their special attention in a mass murder of non-combatants. Their temples and shrines were their special targets in an orgy of pillage and destruction. Those that they did not kill, they captured and sold as slaves.  The scene was described by Kanhadde Prabandha (1456 A.D) in the following words: "The conquering army burnt villages, devastated the land, plundered people's wealth, took Brahmins and children and women of all classes captive, flogged with thongs of raw hide, carried a moving prison with it, and converted the prisoners into obsequious Turks."
For no other country in the world from east to west, faces the agony that the Hindus in India have to face. They are the injured party; but even today they are crucified by the 'so called' secularists—most of them themselves Hindus—at every stage. No country in the world has been so ravaged and raped by outside forces as India has been down the centuries: Not Japan, not China, not Russia, none of the European countries, neither the Arab nations and certainly not the United States of America.
This is the secret of the political history of modern India. Weakened by division, it succumbed to invaders; impoverished by invaders, it lost all power of resistance, and took refuge in supernatural consolations; it argued that both mastery and slavery were superficial delusions, and concluded that freedom of the body or the nation was hardly worth defending in so brief a life. The bitter lesson that may be drawn from this tragedy is that eternal vigilance is the price of civilization. A nation must love peace, but keep its powder dry.
"India is yet another major victim of Islam." "India was a prosperous, peaceful and proud country, which has not only been reduced to extreme poverty and ignorance by the Muslim predators and the Islamic rule, but has also been fragmented into geographical and political units."
Dr. Anwar Shaikh (1928-2006)
REFERANCES:
ELPHINSTONE, MOUNTSTUART: History of India. London, 1916.
FIRISHTAH, MUHAMMAD QASIM: History of Hindostan. Tr. Alex. Dow. 3V. London, 1803.
HAVELL, E. B.: Ancient and Medieval Architecture of India. London, 1915.
HAVELL, E. B.: History of Aryan Rule in India. Harrap, London, n.d.
HAVELL, E. B.: Ideals of Indian Art. New York, 1920.
MACDONELL, A. A.: India's Past. Oxford, 1927.
MUKERJI, D. G.: A Son of Mother India Answers. New York, 1928.
MUKERJI, D. G.: Visit India with Me. New York, 1929.
SEWELL, ROBERT: A Forgotten Empire, Vijayanagar. London, 1900.
SMITH, G. ELLIOT: Human History. New York, 1929.
SMITH, W. ROBERTSON: The Religion of the Semites. New York, 1889.
The Babur-nama in English. Tr. by Annette Beveridge. London, 1922.
TOD, LT.-COL. JAS.: Annals and Antiquities of Rajasthan. 2v. Calcutta, 1894.
WILL DURANT: Our Oriental Heritage. Simon and Schuster. New York 1954